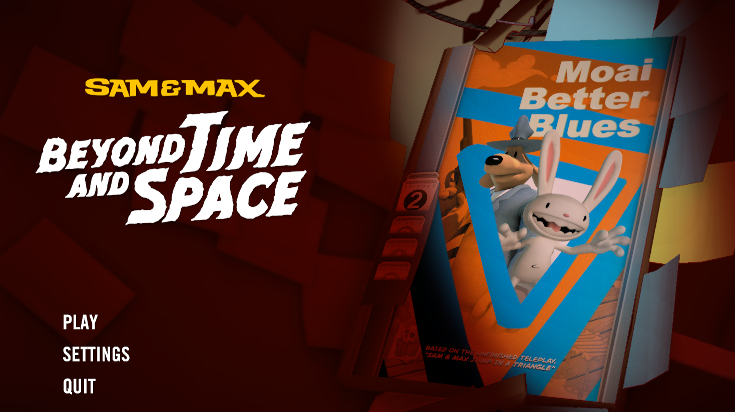 Sam&Max: Beyond Time and Space.
A really funny game in a time when nothing is very funny.
Seasons One and Two of Sam&Max have been remastered. Colors are brighter, new music added, characters slimmed down — but most important — it allows you to play Sam&Max. I played it ten years ago — and if it's your first you are due for a fabulous surprise – they are the most intelligent funny "games" out there. The humor is the center in the witty dialogue as the Freelance Police, a dog and a rabbit, embark on outrageous investigations.
This review is for Season Two. Season One came out last year. There are five linked episodes. They were called Episodic Games because the games originally came out bi-monthly.
Season Two: Beyond Time and Space.
Ice Station Santa:
Tired of all the Xmas – "good will to men" stuff? This Episode will clear your sinuses.
Moai Better Blues:
Yes – they go to the Easter Islands, talk to the giant stone heads – do you know they had feet?
Night of the Raving Dead:
Taking a page out of Ann Rice's book – a disco vampire with piercings.
Chariots of the Dogs:
It had to finally happen – Space abduction, mariachis in space, and time travel to past and far future.
What's New Beelzebub?
Well – if they can confront Santa – why not the Devil and the whole Hell emporium?
In case you may be wondering where this outstanding comic crew emerged from – it's a spin-off from the funny bone of LucasArts. But savor the game. Even after playing it you might want to go back to squeeze out every morsel of goodness.
Available from Steam for the Nintendo Switch, Windows and the XBox – $19.99 for the whole glorious bundle.