SF Ballet Program 2
Season 2020
February 11, 2020
SF Opera House
(Re) Visions
SF Ballet has made quick program changes for the 2020 season. For the opening of Program 2, Mark Morris' "Sandpiper Ballet" was the major concluding work on the program, preceded by "Director's Choice(s)".. For the February 11 evening, the choices were "Foreshadow", Val Caniparoli's trio of characters from "Anna Karenina"; "Pas de duel" from "After the Rain" by Christopher Wheeldon and "Soréess Musicales" by director Helgi Thomasson.
Of this selection, "After the Rain" emptying the talents of Yuan Yuan Tan and Luke Ingham was the most successful. To music by Arvo Part, the duet established a new dimension of lyricism for Tan and noble partnering by Ingham. The piece is slow moving, even sentimental, a sober quiet performance by two established artists. Tan transcended her acrobatic skills and was nobly supported by her partner.
Best of the program was Stanton Welch's "Bespoke" to Bach's Violin Concerto in A Minor, brilliantly performed by violinist Cordula Merks and the SF Ballet Orchestra. Six couples enter and leave the stage in exuberant long dance phrases, sometimes partnered and sometimes solo, joining together with trios and the entire ensemble.
It is the silent solo by Esteban Hernandez that starts the piece; then the orchestra picks up his energy. It is arresting and exciting and the audience anticipates each time Hernandez reappears with his wonderful focus and superb jumps. All the men are capable of such technique and the women are swift and sure in long locomotor patterns that whisk across the stage. Frances Chung, sometimes partnered by Hernandez and often solo, again, for this reviewer, stole the show.
Caniparoli's "Foreshadow" with Jennifer Stahl (Karenina), Tiit Helmets (Vronsky) and Elizabeth Powell (Kitty) is a lyrical introduction to the famous characters. the dynamics are established, but the work does not develop the tensions necessary to bring the drama to fulfillment. Perhaps it just needs to be extended.
Mark Morris intrudes into the ballet world and seems to make audiences happy. For "Sandpiper Ballet" he uses the familiar music of Leroy Anderson; everyone can leave humming. Twenty-five dancers in Mizrahi green/blue costumes fill the stage for 35 minutes displaying Morris' "tricks of the trade:" extensive geometric patterns, lots of acrobatic leaps and lifts and a sight gag now and then. (The downstage left corner of the line-up welcomes a dancer who is late to get in line.) A fellow audience member, admiring the work, nevertheless remarked that the 'greenbeans' on stage got a bit tiresome to watch.
SF Ballet's 2020 season as (Re) Visions is off the a lively start. The soloists, primarily the men, and some of the women dancers are brilliant; the corps de ballet well trained. There will be more Dance Innovations in the weeks to come before full-length programs follow.
Kudos as always to the fabulous SF Ballet Orchestra, Martin West conductor, The orchestra's ability too go from Bach to Anderson in one evening deserves special applause.
Joanna G. Harris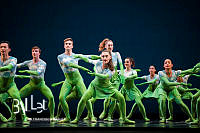 Mark Morris' "Sandpiper Ballet"