Cunningham – A Film (in both 2D and 3D)
Directed by All Kovgan
Studio: Magnolia Picture
Runtime: 93 minute
Innovative Dance
The year 2019 marked the centennial of Merce Cunningham's birth. In three cities, on what might have been his 100th birthday, April 16, in New York, London and Los Angeles, groups of dancers performed 100 solos. These were reconstructed from his many works. Around the world many companies have been taught his repertory so new audiences can experience Cunningham's innovative dance. Yet, still, to many, his work is strange and irregular.
The decades after World War I brought new explorations in the art world. Dada, surrealism, abstract expressionism and other inventive directions changed the visual arts.Twelve-tone systems and new harmonies were heard in music. The modern dance developed, primarily in Germany and America with powerful movement vocabularies and bare feet! … not seen in traditional ballet. These influences and that of the writer James Joyce and the physicist Einstein were important to Merce, as was the electronic experimentation of his partner, the composer John Cage. American visual artists, Rauschenberg, Warhol and Jasper Johns all contributed to Cunningham's innovations. When Cunningham choreographed without regard to standard musical rhythms or melodies and replaced narrative with abstract movement, phrasing and groupings, dance audiences were shocked. Now, after fifty years of choreographic output, Cunningham's work is considered were hallmark of late 20th century dance.
Kovgan's film makes a serious and splendid effort to capture the history and complexity of the work. By means of archival episodes and choreographic reconstruction by the dancers who were in the company until 2109, she has accomplished much of the story. For example two quotes from a satiric dance are shown. One is of Raushan Mitchell and Mellissa Toogood(?) performing a "pas de deux," seemingly a satire on that classic ballet event. Mitchell wears a chair on his back (a choice Merce made). Toogood wears a flimsy long dress and sits politely on the chair. Eventually, Mitchell open the door; the dancers and the door slides off the stage.
Kovgan then gives us the archival footage of Cunningham and Carolyn Brown performing the dance in its original. Cunningham chose the chair: Rauschenberg the door! Such quotes not only provide us with a glimpse of Merce's humor, but gives us clear historical perspective.
Other events are not so successful. We see clips of the class training provided, the care in choreographic structure and shots of Merce's wonderful feet. Yet, in later passages, dancers are filmed from the torso up; no feet are displayed. Dancers are not dancers without feet! The film also provides great views of landscapes both European and American, that upstage focus on dance movement. Great plazas, fountains, ponds, aerial views of New York bridges and rivers are wonderful to see, but, to this viewer, such shots diminish the dance and the dance story.
Kovgan deserves praise for the inclusion of interview and moments of movement with the older, first company dancers: Carolyn Brown, Viola Farber, Valda Setterfield and Gus Solomons, Jr. We see but don't meet the younger dancers who perform, yet they take many roles in many works. "Cunningham" the film is an outstanding achievement in the "adventure" of creating 20th century dance that Merce accomplished. There is almost too much to be seen, whether in 3D or 2D, for this viewer, the emphasis need to be on the dance and the dancers. Kovgan has overloaded us with interviews, cinematic scenery, quotes valuable and miscellaneous. Nevertheless we are grateful for this production which celebrates Merce Cunningham, a master artist of the 20th century.
Besides the early company members mentioned, the dancers are: Ashley Chen, Brandon Collwes, Dylan Crossman, Julie Cunningham, Jennifer Goggans, Lindsy Jones, Cari Kresge, Daniel Madoff, Rashaun Mitchell, Marcie Mannerlyn, Silas Reiner, Glen Rumse, Jamie Scott, Melissa Toogood.
Joanna G. Harris
Ashley Chen and Melissa Toogood perform "Summers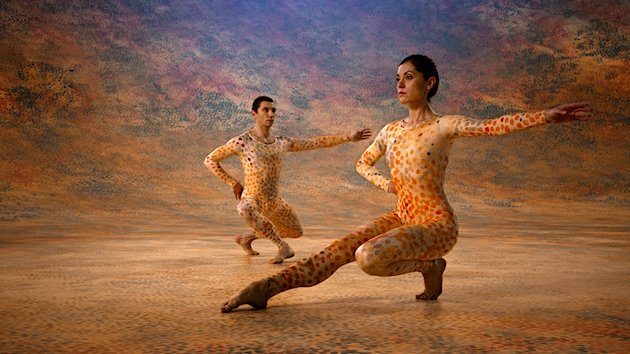 pace"
Set and costumes by Robert Rauschenberg.